Art and the question of where ideas originate are two of the subjects closest to my heart. Combining this with my interest in Conspiracy research and Synchromysticism, I find myself fascinated by the different ways people interpret the intentions of the Culture Creators.
Now, let me state up front, for the record, that I understand that Propaganda is a very real and dangerous tool in the arsenal of those who would wish to oppress us. However, I am also aware that "All Art Is Propaganda" and that there are even weirder things happening in the realms of consciousness that influence the artist, usually without their even noticing.  So, the ideas commonly espoused in conspiracy circles that there is one monolithic force trying to brainwash you into serving "the Illuminati" or whomever, seem way too simplistic and short-sighted for my tastes.
However, let's assume for a minute that members of Skull & Bones and "Jewish Hollywood" are trying to brainwash you.  What then are we to make of the recent Disney movie Princess and the Frog, where this same imagery is presented as the villainous nature?
Even if we wanted to take this from a conspiratorial angle, wouldn't this be proof that they want you to fight the minion-class in a phony rebellion so they (the arms manufacturers aka Military Industrial Complex) can sell you your own chaos, which they would presumably attempt to create their order out of?
This question came back to my attention last week when I had the opportunity to see KungFu Panda 2, which I actually thought was a very good movie.  In KFP2, the villain is an evil peacock, which is interesting in and of itself. But I was more fascinated by the fact that they adorned this evil peacock with circumpuncts.
What are children to think when they are purchasing KungFu Panda lunchboxes and backpacks at their local Target?
Are they going to view the corporaticracy as the evil empire it is?  Are they going to grow up into Conspiracy Theorists who view the circumpunct, revered by FreeMasonic lodges, as a symbol of a "Luciferian Agenda?"
Especially if they are children of adults who grew up watching movies like Flash Gordon, which explicitly portrays the compass & square and Masonic initiations as symbols of the Evil Empire (but which, in my opinion, also seems like a Nazi propaganda piece in many ways).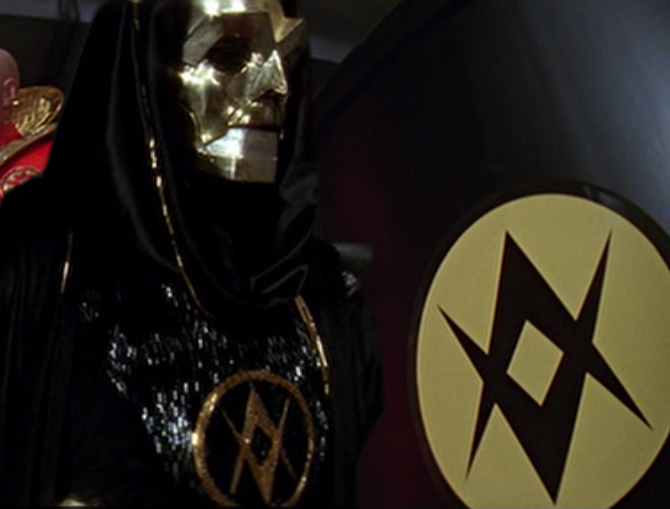 I don't know.  I don't have all the answers, but it is food for thought.
Now, again for the record, I do think that a lot of this symbolism is intentional and a lot of it isn't. I also believe that, ultimately, it almost doesn't matter. In the big picture of things, even the cases of intentional propaganda are subject to the forces of unintended synchronicity.  (I go into this idea in more detail in my essay for the forthcoming SyncBook – Keep an eye out for it!)
So, although I can't say which category this falls into, while I was watching KungFu Panda 2, and I took note of those Circumpuncts on the Peacock Feathers, I was stunned when, twice in the film, the Panda looks at those circumpuncts and finds his mind flooded with vivid imagery. If the circumpunct is a symbol for Sirius, as many (including Chris Knowles) believe, we can interpret this as a mirror of, or another case of, Sirius directly beaming information into someone's head.
This would be perfectly in line with Robert Anton Wilson's experience, which he documented in Cosmic Trigger, as well as experiences of Philip K Dick, and so many others. I myself had an experience like this, but that's a long story that I would have to properly explain so I don't sound crazy.  :)
As I recall, even Jake Kotze had a somewhat similar experience, and though he didn't attribute this to contact with Sirius, he had recently connected that experience with, of all things, the movie Kung Fu Panda!
But, you don't have to trust us crazy guys out here on the fringe. Let's go to a trusted American icon. Kurt Vonnegut, in his fiction book, The Sirens of Titan, lays out how all beings on Earth are under the spell of extraterrestrial mind control:
It is grotesque for anyone as primitive as an Earthling to explain how these swift communications were effected. Suffice it to say, in such primitive company, that the Tralfamadorians were able to make certain impulses from the Universal Will to Become echo through the vaulted architecture of the Universe with about three times the speed of light. And they were able to focus and modulate these impulses so as to influence creatures far, far away, and inspire them to serve Tralfamadorian ends…. "Everything that every Earthling has ever done has been warped by creatures on a planet one-hundred-and-fifty thousand light years away."
Kurt Vonnegut revisited this idea in his novel, Timequake. And while he does not attribute this force to Sirius either, an interesting little bit of type-setting does indicate that the Dog Star may have a hand in this.
"The smarties had to be getting outside help," Trout said to me at Xanadu. While impersonating the mad Sunoco, Trout himself seemed convinced that there was a great big computer somewhere, which, by means of radio, had told Pythagoras about right triangles, and Newton about gravity, and Darwin about evolution, and Pasteur about germs, and Einstein about relativity, and on and on.
In both books, Vonnegut explores the moral minefield that comes with brainwashing by any force under any name.  It is clear that Vonnegut, though hesitant to acknowledge a god-force, saw something from beyond, something coming from an Extraordinary Origin, but which he remained very skeptical of.  Also from TimeQuake:
"That computer, wherever it is, whatever it is, while pretending to help us, may actually be trying to kill us dummies with too much to think about," said Kilgore Trout.
I have wondered this myself in regards to Magic Mushrooms.  While some have theorized that mushrooms sparked the human language and spawned religious notions, theories which I do consider with a great deal of weight, I also take note that mushrooms prefer to grow on dead matter.  So they could just as easily be trying to kill us all.
Either way, they do seem to be connected to alien contact. Either as the aliens themselves, or a sort of cosmic telephone or walkie-talkie.
The Muppet Show's Magic Mushrooms of Osiris from Happy Creatures on Vimeo.
George Harrison, himself no stranger to the Mushroom experience, sought a connection with the divine. Somewhat like Philip K Dick, he saw the god-head as something capable of influencing our thoughts – and he saw it as something far removed from the brainwashing of Earthly entities.
Listen on YouTube
Brainwashed in our childhood
Brainwashed by the school
Brainwashed by our teachers
And brainwashed by all their rules
Brainwashed by our leaders
By our Kings and Queens
Brainwashed in the open
And brainwashed behind the scenes

God God God
A voice cries in the wilderness
God God God
It was on the longest night
God God God
An eternity of darkness
God God God
Someone turned out the spiritual light

Brainwashed by the Nikkei
Brainwashed by Dow Jones
Brainwashed by the FTSE
Nasdaq and secure loans
Brainwashed us from Brussels
Brainwashed us in Bonn
Brainwashed us in Washington
Westminster in London

God God God
You are the wisdom that we seek
God God God
The lover that we miss
God God God
Your nature is eternity
God God God
Your are Existence, Knowledge, Bliss

The soul does not love, it is love itself
It does not exist, it is existence itself
It does not know, it is knowledge itself
How to Know God, pag 130

They brainwashed my great uncle
Brainwashed my cousin Bob
They even got my grandma
When she was working for the mob
Brainwash you while you're sleeping
While in your traffic jam
Brainwash you while you're weeping
While still a baby in your pram
Brainwashed by the military
Brainwashed under duress
Brainwashed by the media
You're brainwashed by the press
Brainwashed by computer
Brainwashed by mobile phones
Brainwashed by the satellite
Brainwashed to the bone

God God God
Won't you lead us through this mess
God God God
From the places of concrete
God God God
Nothing's worse than ignorance
God God God
I just won't accept defeat

God God God
Must be something I forgot
God God God
Down on Bullshit Avenue
God God God
If we can only stop the rot
God God God
Wish that you'd brainwash us too
So what is it?  Is it "God?"  Is it "Aliens?"  It's all very strange and mysterious, and often leads into realms of personal metaphysics, so that's for each of you to decide for yourselves. If you were to ask me most days, I would say that it is probably contact with the pure source – an unfiltered access to the collective unconscious or whatever term you prefer – that we lack the proper context for. That's why some would perceive it as beams from Sirius, while others might see it as The Holy Spirit…
…but which may in fact be symptoms of the same thing.
More Posts You Might Like: